Lisa Vanderpump is a British restaurateur, philanthropist, author, actress and television personality. She is most known for her appearances on Bravo's "The Real Housewives of Beverly Hills" and "Vanderpump Rules." On Monday she was honored by the California State Assembly as "Woman Of The Year" for the 50th Assembly District, which is overseen by Assemblyman Richard Bloom, D-Santa Monica.
"Ms. Vanderpump eloquently presents the intelligence, courage, and compassion we all look for in a leader and role-model. She provides women of all ages and areas of life the self-confidence and resolve as we strive for gender equality," Bloom said in a statement.
Vanderpump is not your average reality star; aside from being an actress, she is a leader, a teacher and a woman whose heart is pure gold. She may possibly be one of the busiest people in the world, owning 26 restaurants, bars and clubs from London to Los Angeles including "The Shadow Lounge, Bar Soho, SUR and Villa Blanca.
Lisa Vanderpump is someone every lady should aspire to be and here are 8 reasons why.
---
8. She is known for giving back and being an advocate.
via: eonline
She is well known in the LGBT community for her activism, including the Boycott of the Beverly Hills Hotel because the owner is accused of being anti-gay. Bloom called her a "pillar of the LGBT community" who advocates for equal rights and fundraises for HIV and AIDS research. Besides supporting the LGBT community, she fundraises for the Children's Burn Foundation and other medical treatments and supports the KMA- which is committed to improving the lives of patients and families navigating through brain disorders like Alzheimer's.
---
7. She is silly.
Lisa makes me genuinely laugh, which is something that is hard to find in most people. She calls her future grandchildren "juicy pork chops" and she never takes life so heavy. You can find her making fun of herself (but never really others unless it's acceptable) and her one liners are impeccable. Whether it's making light of a situation in Amsterdam when all her friends got caught up in a dispute or making the kids at SUR laugh when they are about to break down in tears, she really makes life for herself and those she loves a lot more fun. She carries her dog everywhere and she has pet swans that are welcomed into her house and let her pet them, enough said.
---
6. She is not afraid to get her hands dirty.
Lisa can have dinner with the kings and hang out with the peasants. She will stick up for what she believes in or defend what is right and she is not afraid to say what's on her mind. No matter what the situation is, she always thinks things through and never over reacts. She is a bad b*tch.
---
5. Her taste is exquisite.
via: raphaelpsychic
Whether it is tabletop accessories, visually stunning designs in her home and restaurants, the food she serves with A-List chefs or the clothes that she wears, Lisa's Lavish lifestyle and knowledge for all things magic is truly something a lady could only dream of.
---
4. She never judges.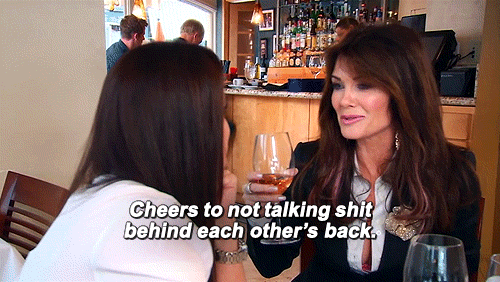 No matter what people are going through or have done, you will never find her judging someone else. She might have something to say about it or roll her eyes, but judge- you will not find her do. She accepts everyone for who they are and their past and she doesn't use it against them. That is something we should all strive to be like.
---
3. She remains loyal to her friends and family.
She keeps it real and would do anything for those she loves. Whether it is talking to them when they are having personal issues or involving them in her business, she has their back no matter what. People come to her with problems and are not afraid to open up which is an admirable trait to have. No matter how busy she is or whom she is talking too, she backs up those she loves and always finds time for them.
---
2. Her entrepreneurial skills are on par.
Having a job since 15 and left home when she was 18, she has really done well for herself. Lisa has 27 businesses across the world. From restaurants, clubs, home decor and alcoholic drinks, Lisa is known to be a hustler. Move over Bey, you have some competition when it comes to owning 24 hours a day.
---
1. Women. Power.
The real reason we should all strive to be like her is her passion and dedication to life. It does not matter to her where you have been, all that matters is where you are going. She empowers women across the globe to be the best version of themselves that they can be. She is beautiful inside and out and there ain't nobody stopping her from reaching her dreams. Vanderpump seriously rules and she deserves every award she has received.  We can't get enough of her.
---